There is a growing demand for young talent equipped with cutting-edge skills in the fields of Artificial Intelligence (AI) and Machine Learning (ML). This surge has prompted companies to actively seek interns with expertise in AI and ML to aid in crafting innovative solutions and advancing their technological capabilities.
However, landing an AI or ML internship is no easy feat due to the intense competition in the field. To stand out from other candidates, it is essential to deploy effective strategies that highlight your passion for the subject matter along with relevant technical skills. By showcasing a strong understanding of AI concepts, familiarity with programming languages commonly used in ML applications like Python or R, and having completed relevant coursework or projects, you can increase your chances of securing internships at top companies. So, if you want to stand out in front of recruiters, let's get started.
The Role and Responsibilities of an AI and ML Intern
Interns often engage in data collection, cleaning, and analysis, as well as algorithm development and testing. They may also contribute to the design and implementation of AI models or assist in troubleshooting issues that arise during the development process.
Artificial intelligence will reach human levels by around 2029. Follow that out further to, say, 2045, we will have multiplied the intelligence, the human biological machine intelligence of our civilization a billion-fold. ~ Ray Kurzweil
Alongside their technical responsibilities, AI and ML interns are expected to stay updated on industry trends and advancements. This includes researching new algorithms, attending conferences or workshops, and collaborating with colleagues to brainstorm innovative ideas. Strong communication skills are essential for interns as they often need to effectively convey their findings or solutions both verbally and through written reports.
Unlocking the Earning Potential: AI and ML Intern Salaries
Having a strong resume tailored specifically for AI or ML positions significantly improves the chances of getting noticed by hiring managers. Highlighting project work, research papers completed during coursework, or any code contributions made towards open-source projects demonstrates practical experience in the field. Combined with effective communication skills during interviews and enthusiasm about ongoing developments within the industry, these strategies unlock earning potential for college students pursuing their careers in AI and ML internships while still studying at university.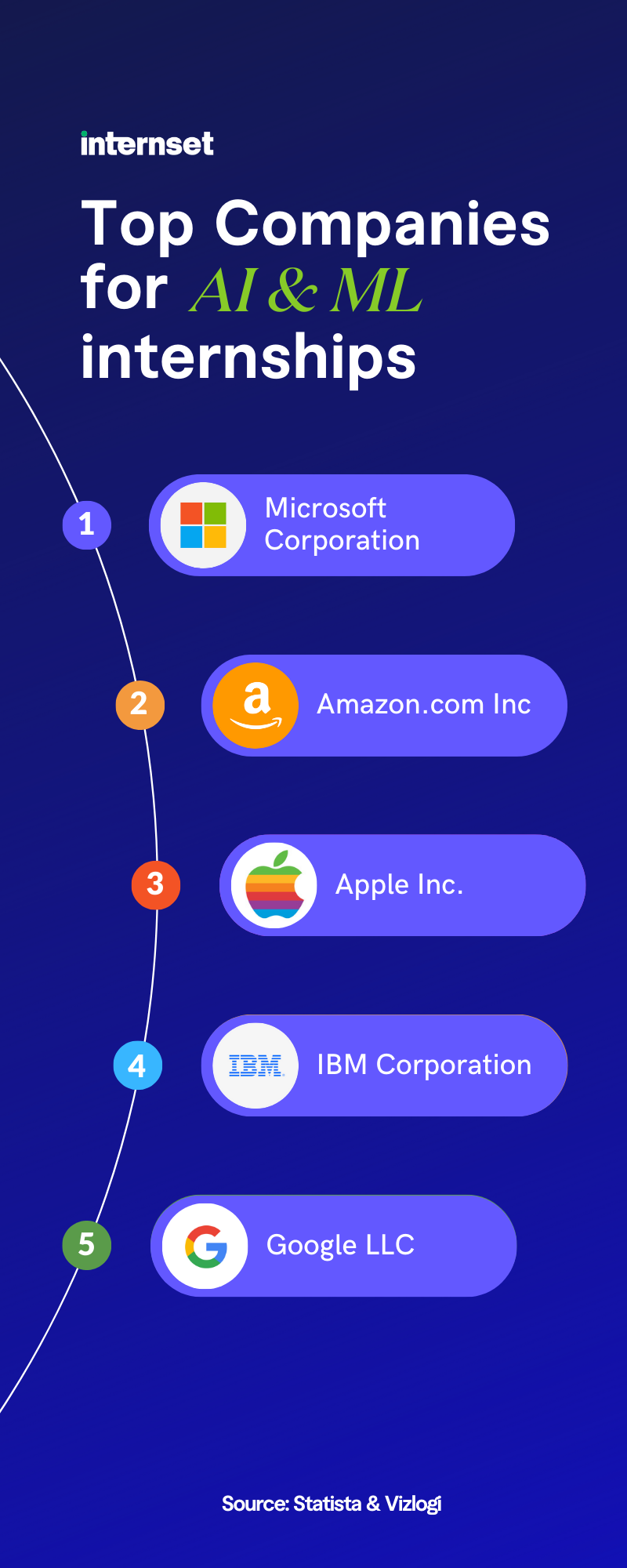 Salaries for AI and ML interns can vary widely depending on the employer, the intern's experience, and the location. Generally, AI and ML interns in India can expect to earn anywhere from Rs. 10,000 to Rs. 40,000 per month. The average salary for an AI intern in the United States is around $20 to $30 per hour. While in the UK, AI and ML interns typically earn an average annual salary ranging from £20,000 to £25,000, their counterparts in Canada can expect around CAD$30,000 to CAD$40,000 per annum. Meanwhile, in Australia, AI and ML interns typically earn approximately AUD$35,000 to AUD$45,000 per annum.
Essential Skills for Landing a AI and ML Development Internship
Firstly, excellent problem-solving and critical thinking abilities are highly valued in this field. As an intern, you will likely be tasked with solving complex challenges and developing innovative solutions. Being able to think analytically and approach problems from multiple perspectives will showcase your ability to contribute effectively.
Additionally, effective communication skills are crucial for any position in the tech industry. Strong written and verbal communication allows you to articulate ideas clearly and collaborate efficiently with team members. It also enables you to present your work effectively, whether it's through reports or presentations, increasing the visibility and impact of your contributions.
Power Strategies to Secure Your Dream AI and ML Internship
1. Build a Strong Foundation:
Take relevant courses in AI and ML to establish a solid foundation.
Learn programming languages like Python and R, which are essential in AI and ML.
2. Personal Projects and Portfolios:
Develop personal AI and ML projects to showcase your skills.
Contribute to open-source projects to gain practical experience.
3. Networking and Professional Associations:
Join AI and ML groups, attend conferences, and connect with professionals.
Platforms like LinkedIn can help you build a valuable network in the field.
4. Online Courses and Certifications:
Enroll in online AI and ML courses from reputable platforms like Coursera and edX.
Earning certifications can boost your credibility and show your commitment to learning.
5. Hackathons and Competitions:
Participate in AI and ML hackathons and competitions to test your skills.
Winning or even taking part in such events can catch the eye of potential employers.
6. Customize Your Resume and Cover Letter:
Tailor your application materials to highlight relevant AI and ML experiences.
Be concise, emphasizing your passion and skills.
7. Leverage University Resources:
Utilize your college's career services and alumni network.
They can provide valuable guidance and connect you with internship opportunities.
8. Apply Early and Widely:
9. Prepare for Interviews:
Brush up on AI and ML concepts for technical interviews.
Practice coding challenges and be ready to discuss your projects.
10. Stay Informed and Up-to-Date:
Keep up with the latest AI and ML trends and research.
Continuous learning and staying informed will set you apart from other candidates.